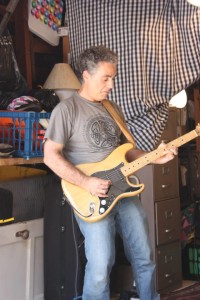 MiddleAgeRockers.com is moderated by Steve Semeraro and Rob Karp, who have been friends since the third grade, though they now live 3000 miles apart.
Steve (aka Strum) is a musician of limited talent who played in rock bands in high school and college, toying around with early cassette recording systems like the Tascam Portastudio. Like a lot of us, he abandoned playing and recording for the better part of a quarter century while starting a family and building a career.  Now that he has a little more time, he decided to get back in the game.  He put together a new band, The Innocent Bystanders, and started learning about digital recording.  He started this site because "although there is no shortage of on-line information,  I've found nothing dedicated to guys like me — middle age rockers returning to their passion.  I figured that I couldn't be the only one."
Rob (aka Reeb) is a musician of even more limited talent, but perhaps the best song writer you never heard of.  Steve taught him to play guitar when they were rooming together during their freshman year at Rutgers College.  His main interest in learning to play was to put music to the lyrics he'd been writing for several years.  He's written over 100 songs, performing many of them in bands ranging from acoustic duet coffee houses on the Rutgers campus to a full-on rock band, Redemption, that trashed its share of North Jersey clubs in the early 90s.  In recent years, Rob has spent his time working too hard, raising two kids, and enjoying life with two soul mates, a great wife and a crazy dog.  In his spare time, he's been giving Jazz magazines what for, publishing letters on a variety of topics.