Tubes or Solid State: Fenders (Black & Tan), Marshall, or . . .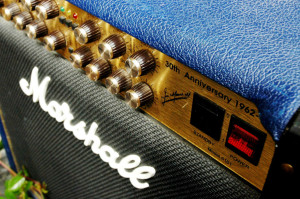 "there's no denying how cool they look"
Guitar amps are worshiped in some corridors. You can find videos on YouTube that simply show the cabinet without ever turning it on. Others argue that modern effects and emulations have made guitar amps irrelevant. We'll try to sort out the best options based on what we want to do and how much money we have.
Fender Amps
Marshall
Peavey
Mesa Boogie
Orange
Just Nick demonstrates the Custom '68 Fender Princeton Reverb